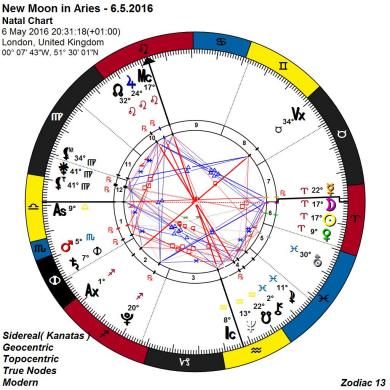 The New Moon begins in Aries on the 6th May 2016 at 20:31 pm and the 6th house London.
The Aries Moon has a very passionate and volatile nature that can act without due consideration for the consequences of any given action. This is the child that stamps his feet and spits his dummy out when he doesn't get his own way! The Aries Moon is independent and emotionally dominating, often acting in ways with undue consideration for the consequences.
As Mercury is retrograding through Aries, it emphasises the Aries need to be recognised as the top dog and doesn't have much patience in getting others to listen to his version of what competence actually is. But all is not so chaotic as this Aries New Moon is also in conjunction with Venus which creates a sensitivity towards beauty and creativity and can produce much charm, tact and an affectionate nature. The wonder of beauty in its purest form can melt the Arian's callous and magnificent heart.
The New Moon this month forms a Grand Trine with both Jupiter and Pluto who are both in retrograde mode also, this will be an intense time emotionally. Whilst Jupiter would normally emit a generosity of spirit and kindness, in retrograde mode he wants to be heard and can be quite abrupt in interrupting our thoughts; he expects us to listen! But is he worthy of this respect and honour? Pluto would normally have a great potential towards a spiritual regeneration and manifestation, but in retrograde mode he becomes detached and spiritual growth is limited by the conscious mind.
So for us citizens of the Earth, the New Moon in Aries this month is all about revisiting our childhood memories, our childhood belief structures and to reassess our roots and how they have served us along the way. It may not be the right time to make any drastic changes, start anything new, sign contracts or buy any electrical/mechanical equipment, but it is a good time to get in touch with our inner selves and to reconnect with our original creative talents. What was you good at as a child? What feelings did you get from practising your first love? If you would rather not go there, then let off some steam by getting involved with some physical activity to burn off the high emotional energy of this New Moon and then find some quiet time to contemplate the beauty of nature and Mother Earth, the one thing that Pluto in retrograde is offering to us is the ability to rise above things, lets take advantage.
Read more by Kim Lovelace (Star)