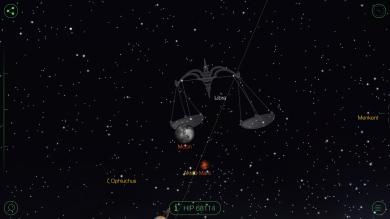 *Welcome to my 13 sign esoteric Astrology blog! I write about the hidden secret meanings of planetary alignments most western astrology perspectives cannot give you. Simply put, the western zodiac is not based on the actual movements in the sky! While the Sidereal zodiac is star based, even more so is the study of 13 signs, which includes the ever elusive constellation Serpentarius Ophiuchus. That's if you want to be even more aligned to what's actually happening in the Heavens! So if you're following western dates, you're just not aligning with the stars. The Greeks mainly used a man-made seasonal time, which is not based on constellations. I have dedicated a good portion of my life to uncovering and decoding the true star map and it's messages in the Sky. And I just so happen to be born the 1st day of the 13th Sign, Seprentarius Ophiuchus!
This Full Moon is truly located in Libra stars, which are the ancient Claws of the giant Scorpion!
Who knew that the Scales of Justice were originally the Claws? Yep, and that's where we will be illuminated by the moon this month. Last month I explained how Virgo is the sign of mental health and balance. Maat (Balance) begins in the mind, body and spirit of the Virgo Earth Matrix mother. This full moon will highlight her scales of justice. The balance between Life and Death (Scorpio). What we hold onto, and also what we choose to let go of creates a never ending cycle of life and death continuously. The Scorpion's claws. A few thousand years ago, The Romans renamed the hands of the Scorpion, the scales of Libra. But originally Virgo and Scorpio were connected! There was no Libra! You can easily still look this up! In the sky, the stars on Libra's scales have remained named the North and South Claws to this very day! The North Claw is Zubeneschamali and the Southern Claw is Zubenelgenubi. And if we look deeply into the animal symbolism depicted, the scorpion uses its claws for making love as well as for slaying its prey. Whoa! Make love not war right!? The inner battle/balance within Libra's scales (claws) of truth and justice are also ever present in every facet of our relationships, as well as our personal desires. The Libra Scorpio zone in the sky takes partnerships, relationships, and soul contracts of every kind, very seriously. Sometimes our claws just won't let go. Until death do we part? Sometimes this area of our psyche doesn't even know the difference. There really is a thin line between Love and Hate. Love and War. Life and Death.
Therefore, we can easily see how and why the constellations of Virgo and Scorpio will always be intertwined. Libra is just another aspect of the original life-death-life Goddess pantheon, and there are many. Check your Google Sky Maps app! The Full Moon will be complete in Libra on the edge of Scorpio tonight! Egyptian goddess Nekhbet, the vulture, is said to represent this area of the sky. She is forever bound to her twin sister Wadjet, the snake goddess, and together they uphold the laws of Maat, each presiding over Northern and Southern Egypt. Nekhbet is known for her protective and loving side. Vultures are always seen in pairs. She is also the fierce protector of mothers and childbirth and is the official goddess watching over the pharaoh from birth to death. The qualities of a vulture in ancient Egypt are associated with Godliness because of her immense size, power and ability to sore very high up into the sky!
The ancient Egyptians strongly emphasized that life here on Earth is to be utilized as preparation for the Eternal Life on the Otherside. With this comes a great deal of never ending choices. That which to hold on to. That which to let go of. There is always a price to pay for what we choose, a sacrifice of some sort. Working with the principles of Maat, we know that the ultimate truth is universal Oneness. Living in Maat is still paramount especially as we navigate thru this zone of the sky for our Full Moon awakening. We have all come to a crossroads in our lives and want to ascend to a higher level of development for this Full Moon. Health, healing and cleansing are still key. I would say even more so as we get deeper into the Underworld with the resurrection Goddesses. Use prayer and intuition to formulate your own personal brand of rituals that are needed at this time. The deities/energies associated with this full moon are all working on balancing our inner world. I invite you all to work on this exercise with me:
*Write a list of all your strengths/positive attributes. Now write a list of all your weaknesses or what you consider to be negative traits that are holding you back from your highest potential. And finally I want you to work on eliminating your weaknesses by emphasizing your strengths! Very simple yet very important for this zone of the sky. Don't hesitate to call on the power of our ancient guides working deeply within this energy. There are a number of creation/afterlife gods and goddesses. Some of my favorite are Maat, Isis (Auset), Osiris (Ausar), Anubis, Serket, Wadjet, Persephone, Chiron, Medusa and Nekhbet. Studying their roles in antiquity should give us a good sense of what is at work in our daily lives for the next 2 weeks. The scales of Libra, the Claws of the Scorpion represent that which we hold onto and that which we must let go of in order to rebirth ourselves.