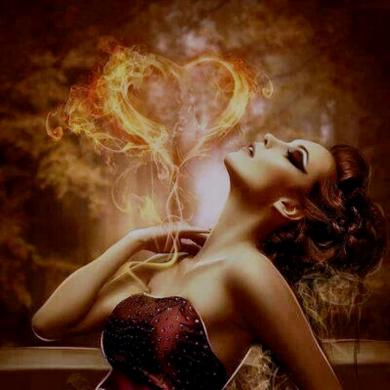 LEO (born between: 10 August – 15 September)
You have your power back Leo and are ready and willing to indulge in some new experiences. You feel at one with the world and yearn to express and spread your feelings of spiritual oneness; the only thing holding you back right now is your emotional dissatisfaction of all that is unbalanced in your personal or home life. On one hand there is a danger of you going over the top with your creative urges, whilst on the other you are blocked by a deep feeling that all is not well. Your intuition and profound understanding of life and people can be an asset around the time of the Full Moon where your intuition, perception and originality will give you confidence and you will be able to achieve many things at this time. Your health has vastly improved and your magnetic charm can bring you the balance and harmony that you so need right now. Make the most of the Full Moons energy as once September hits, old wounds come to the surface and healing work will need to be done. You will need to find an outlet where you can express them, don't bury them. You will find yourself striving hard but there is a lack of direction, it feels like it's a case of one step forward and two steps back, but you can take advantage of the new opportunities coming in, by letting go of the past; they say the last mile is the hardest and this may be the case with you.
VIRGO (born between: 16 September – 30 October)
You are full of big ideas at this time Virgo and your expectations are high. You are confident and are able to voice your thoughts effectively. You desire emotional security and can bring new ideas to the table that are acceptable. You are able to grasp the reality and understanding of manifestation and how the law of attraction works, but are finding this part of your knowledge hard to put into words. You are able to get to the root of things but for the moment it is for your own benefit. You are highly sensitive to other people's thoughts and motives, your mind is telepathic, but you must not stray from your path by using this knowledge deceitfully. It would be wise for you to be straight forward and honest in your approach towards others. By the Full Moon your mind continues to sharpen, but you find yourself keep going over the same old ground, the urge is for perfection and your old habit of being too detailed overloads your brain. Be careful of overdoing it and remember the bigger picture. Try not 'run before you can walk' and take care of your body, as you are probably putting it through great stress as the month ends. Tune into your inner self to connect to your body, or listen to the people around you they may have an important message for you.
LIBRA (born between: 31 October – 23 November)
You have unconscious desires that generate wishful thinking Libra. Beware of what you wish for, because your perception of reality may be distorted. Beware also of indulging in unhealthy pleasures; you are feeling self indulgent and lazy which can lead to your detriment and a depletion of your finances. Your emotions are blocked and you may be feeling anti social as the misfortunes caused by your bruised ego leads you into a vicious cycle of self neglect. The Full Moon will bring in a better frame of mind where balance and harmony will be restored and you develop a better understanding of reality, but it may be that you need to make some changes in your lifestyle that you really don't want to do. Be open to compromise, otherwise staying stubborn in your pursuit for exotic desires will cause problems in your relationship, where your foolish use of money or impulsive actions will come under scrutiny. Seek balance and look after your health.
SCORPIO (born between: 22 November – 29 December)
Off with the old and in with new applies to you Scorpio. You have a renewed vitality and are in good health, making this is a good time to have a clear out or break a bad habit. It is also a good time to practise manifestation where you can initiate positivity into your life, your willpower is strong and you can use this intelligently. You would definitely be a good person to be around at this time and would be a great influence on others that are stuck in the rut of chaos. By the Full Moon your keen perception and deep understanding of the transforming power of love, can be used to help others understand how to raise their own relationships to a higher level. You know how to influence mass thought and gain public support and co operation. You can express your control of the will with tremendous power and great courage to overcome obstacles to material and spiritual success. By September you will be seeking passion and depth in relationships and will gravitate towards those who can handle the heat! You will definitely be a force to be reckoned with.
OPHIUCHUS (born between: 30 November – 17 December)
You are just not happy with the status quo Ophiuchus. You are unfulfilled and blocked emotionally. Every time you feel you are getting close to the finishing line, the goal post moves once again, further from your grasp. Your expectations are high and your boundaries are nonexistent when it comes to finding your place in this world. You yearn to find a place of solid ground where you can put into force your knowledge and expertise, but this will take a tremendous amount of hard work as the forces above don't make your quest an easy time. You need to find common ground with mankind. By the Full Moon it is important that you keep an open mind and remain balanced in your dealings with others, you may find yourself irritated by their lack of perception. You have the power of mind control as the month ends but you must use this wisely and recognise that you are part of the whole and not a separate entity. You need kindness and nurture as old wounds come to the surface. Practising deep breathing work and concentrate on healing your pain, it will help you to discover something new and different that will be of benefit you. There will be some difficult choices for you to make regarding your path in life, but you lack direction or fear letting go of the old. Just be patient with yourself and with others.
SAGITTARIUS (born between: 18 December – 18 January)
Be careful of making decisions on impulse Sagittarius. Nurturance and adventure versus safety and comfort and there is a recurring theme of letting go. You seem to be going over the same old ground of separation and loss; these cycles are returning to shape and reshape your belief structure. On one hand you want to stick to what you already know and on the other yearn for new horizons; it is important that you work on finding a balance between the two. Beware of power struggles and keep your choices open as optimistic and reckless ambitions will make you ignorant of the consequences. Unpredictable events may lead you into making decisions too fast, be prepared to stop and think when these moments occur. The Full Moon will bring you a clearer insight and intellectual integrity, where once again you can move forward and pursue your interests, whilst the end of the month and into September, causes you to go over the same old ground again, but in a better frame of mind. The advice is, not to rest on your laurels, stay alert and then you can enjoy your social status and be of benefit to others.
CAPRICORN (born between: 19 January – 15 February)
Romance may be disappointing or unfulfilling Capricorn; it may be just the way you are feeling, or not feeling more to the point! There is a danger here of you using your shrewdness to gain wealth and power, or using your wealth and power to attract the affection that you seek. If either is the case, then you need to reassess the outcome that you desire, will it really be to your advantage? Be careful that you don't end up embroiled in misfortune or hardship, because of your lack of self confidence. You have had a hard time of it so far this year and you must wonder when it will all end, or turn around and bring in some positive vibes for a change. There is no doubt that you are going through hard times and the Planets seem to be against you right now, but courage and prudence will help get you through.
AQUARIUS (born between: 16 February – 11 March)
You are finding it difficult to incorporate your ideals onto your life's path Aquarius. Your chosen path to success is at odds with your deepest insights and humanitarian urges, you need to remain open and adaptable. Your intuition is strong and you are willing to experiment in new realms of experience for a humanitarian cause, but work on yourself needs to done first. The Full Moon brings in unusual experiences which can divert you from tending to your daily needs, you must take your time and not rush into carrying out new ideas, you need to look after yourself and work on making any changes to your life at a slower pace. By the end of the month and into September, you will need to re-evaluate your routines and why you created them in the first place? This is a time where you need to learn to change your circumstances, without ending them abruptly and causing an emotional turmoil. Growth is the name of the game and disconnecting from the need to be understood and getting in touch with your need to succeed will serve you well. It is time to let go of the past in some way; gently.
PISCES (born between: 12 MARCH– 18 APRIL)
There seems to be a balancing act going on this month Pisces. On one hand there are some good opportunities for spiritual growth and an ability to form deep spiritual connections, where you can share a spiritual path or creative expression. There is also a delightful element of romance and mystery where your interactions will be tender and strong. On the other hand, your unconscious habits and intuitive promptings clash with the accepted social norms and timing is off when you try to take advantage of these opportunities. However, individualism and discrimination will allow you to avoid disastrous social fads, or where circumstances beyond your control results in a loss of some kind. You may have the responsibility of acting as a channel for working out spiritual purposes under difficult conditions. By the Full Moon you may feel confused about your path of general responsibilities and desire to escape them. You will need to rein in your imagination and beware of self deception. The end of the month into September will bring some information to light, but it is still a time to stick with those who already understand and support you.
ARIES (born between: 19 April – 13 May)
You have the capacity for hard work and endurance Aries, although there may be some explosive situations due to suppressed emotions. It is important that you maintain caution and prudence in a time of great difficulty. By the Full Moon your desires will feel confused and at odds with common sense, but this would definitely be a good time to invest some time into something creative, music, art or drama, anything that makes use of your imagination will be a good outlet. You may question the values or group actions of your circle, causing you to become a loner and acting on your own decisions ,as your circle is out of harmony with your actions and desires, making this a frustrating time for you. Your emotions are inconsistent, but this is designed to transform or minimise components of your personality, you are going through a change and trying to control them will be beyond your control. September will give you your health and energy back, where you will regain control of your emotions, but your energy will be super abundant and it will be important that you develop poise and control otherwise they will lead you into impulsiveness. You will need think before you act.
TAURUS (born between: 19 April – 13 May)
Complexed emotions and unconscious desires connected to your past are distorting your sense of reality Taurus. These can lead you astray and bring you problems on a practical level. Watch your finances as there is a tendency for you to indulge in retail therapy or an unhealthy lifestyle. Beware of get rich quick schemes as they are likely to drain your resources and create more problems for you. The Full Moon highlights problems in your romantic or family life, but you are feeling a bit more diplomatic at this time. By the end of the month and going into September, old relationship wounds may surface, where you are feeling extremely sensitive and lack self worth for fear of rejection, or there may be disharmony in your values. You need to let go of the past by being willing to release old outworn relationships. You also need to learn freedom within relationships and not from them. Intense emotional and sexual involvements may become tainted with financial considerations.
GEMINI (born between: 20 June – 20 July)
Beware of mind games Gemini. You need to be straightforward or people will mistrust you. There is a tendency to develop false illusions about them. Be careful also of not divulging secret information. You have a good power of concentration and can use your willpower intelligently; you also have the ability to manifest good things into your life. You will probably find yourself going over some old ground, but this could be good for giving you an even better understanding of all that you have already learned. By the Full Moon your appetite for knowledge becomes insatiable but it is important that you keep your mind open and balanced. Beware of talking too much as you may not feel comfortable afterwards with what you have divulged. By the end of the month and into September, there could be conflicts in your social relationships, you must not overdo it or neglect your responsibilities, as your quest for mental stimulation can make you unreliable or too changeable. You must admit when you are wrong.
CANCER (born between: 21 July – 9 August)
You need to seek balance between your family life and your need for self expression Cancer, but you are being given the opportunity to do this by using your will constructively and not allowing other people's attitudes and reactions to affect you. By the Full Moon you are given an opportunity to let go of the past in some way and embrace new opportunities that arise in your life. You will be taking life a little bit more seriously than usual but are able to infuse some excitement and fun, just don't over estimate your capabilities and read too much in between the lines. Try and stay fixed and focused on the facts. It will be hard for you to really tune into your true feelings at this time and this will create some confusion in your perceptions. By the end of the month and going into September, Your sensitivity can become volatile and impulsive, without due consideration for the consequences. Be careful of taking other people's reactions too personally, direct this psychic energy to your own advantage as the Planets are creating confusion and misunderstandings between yourself and others. Your energy is abundant at this time and you will benefit by concentrating on core values in communications rather than to allow your ego to conflict with your emotional needs.
Read more by Kim Lovelace (Star)